Located in Caro Michigan, this small but charming single-screen movie house shows first-run films. Originally opened in the 20s, the Strand has been remodeled over the years, most recently during the late 90s. It features a beautifully intact Art Deco style facade and marquee illuminated by neon and lightbulbs.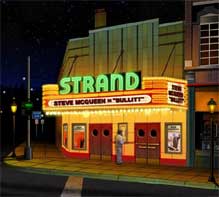 Alexanders Bad Day 1hr 30min

PG for rude humor including some reckless behavior

Steve Carell, Jennifer Garner




For 12 year old Alexander Cooper, everyday is a bad day. And his family thinks he's being silly because they never have a bad day. On the day before his 12th birthday party, he learns that another boy is having a party of his own and everyone is going to it. And another kid punks him online. So at midnight of his birthday, he wishes that his whole family can have a bad day. And things for the whole family go bad, his mom's car is broken so they have to share a car, his sister has a cold and has to go on stage, his older brother, who's hoping to get his driver's license and to bring his girlfriend to the prom, has to deal with his girlfriend's snootiness and fails to get his license, his mom has a crisis at work which could cost her her job, and his dad who has a job interview has to bring his younger brother with him but because his pacifier is broken he can't stop crying. Alex feels responsible.






Big Hero 6 STARTS NOV. 7th

PG for action and peril, some rude humor

Ryan Potter, Scott Adsit, Jamie Chung




From Walt Disney Animation Studios, the team behind "Frozen" and "Wreck-It Ralph," comes "Big Hero 6," an action-packed comedy-adventure about the special bond that develops between Baymax, a plus-sized inflatable robot, and prodigy Hiro Hamada. When a devastating event befalls the city of San Fransokyo and catapults Hiro into the midst of danger, he turns to Baymax and his close friends adrenaline junkie Go Go Tomago, neatnik Wasabi, chemistry whiz Honey Lemon and fanboy Fred. Determined to uncover the mystery, Hiro transforms his friends into a band of high-tech heroes called "Big Hero 6."






Hunger Games: Mockingjay Part 1 Thur. Nov. 20th

PG-13 for intense sequences of violence and action

Jennifer Lawrence, Josh Hutcherson, Liam Hemsworth




TICKETS ON SALE NOW FOR THE THURSDAY NIGHT NOVEMBER 20th 8pm SHOWING!!! ALL SEATS $7.00 FOR THIS SHOW. BE ONE OF THE FIRST TO SEE THIS MOVIE. DOORS WILL OPEN AT 7:15PM.



Our Frequent Movie Goer Card